Using the Oriel system
Applicants will need to create an account on the Oriel recruitment system before applying for a vacancy. Full details can be found in the Oriel Applicant User guide. Registration will allow a medical applicant's details to be logged by the application system in the event of an application for more than one specialty. Once you have created an account you can register your personal information. You should create an account on Oriel to generate a username and password and you then complete the registration process.
For medical applicants, find the vacancy which is listed as Public Health Medicine and proceed to the 'apply here' button. You may begin the registration process before applications open if you wish.
Applicants who come from a background other than medicine must also create an account and complete the registration section. To create the correct registration questions the answer to 'Which Staff group are you interested in applying to?' must be Public Health Non-Medical, as shown below: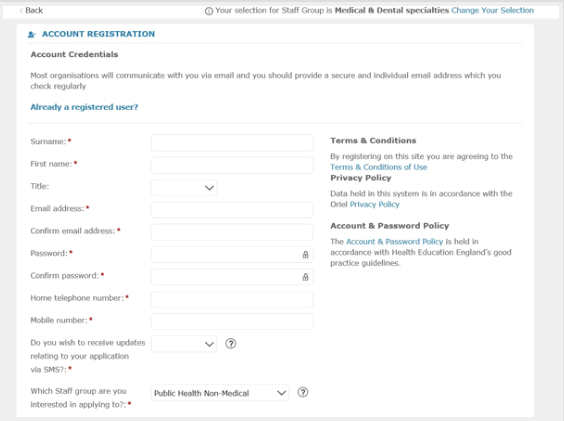 Applications must be submitted online. No paper applications will be accepted. Applicants are advised to read through the application form and the essential guidance to understand what further documents may be required for upload in order that they leave sufficient time to source these.
Old versions of any supporting documents may not be accepted
The link to access the online portal is https://www.oriel.nhs.uk
The closing date for applications is 16:00 on 28 November 2019.
All posts in England, Scotland and Wales will be recruited in accordance with the specifications. Applicants are advised to read the FAQs available via these web pages. In particular, the criteria around eligibility are very specific and careful attention should be paid to these in advance of an application for public health specialty training. 
Top