Frequently Asked Questions
Consult this page for answers to the general queries you might have about the Public Health training scheme. If you cannot find an answer to your question please email educ@fph.org.uk
Exams
Why isn't exam feedback more detailed? Limited exam feedback makes it harder for Registrars to pass the exams.
The Diplomate Exam Development Committee is currently reviewing the feedback that is provided for candidates and to see what further feedback can be provided whilst maintaining the integrity of the exam.
Since autumn 2020 for the Final Membership exam additional feedback regarding scores is now provided as part of the candidates results letter.
Where can I find a breakdown of the exams costs?
A breakdown of exam costs can be found on the Faculty website here.
How do the costs of FPH exams compare to other Royal colleges?
In 2017 the Academy of Medical Royal Colleges published a document Mandatory Training Costs outlining the costs for Registrars when enrolled on training schemes for all specialities. The 2017 totals for exam costs for each of these are in the table below. Based on the 2019 cost for FPH, we rank 9th out of 16 compared to other colleges in exam expenses.
The exam fees for FPH exams are calculated to cover the cost of delivery of the exam only, which includes venue, materials, staff time etc. A breakdown of exam costs can be found here.
Due to the Faculty being a smaller organisation than other Royal Colleges we don't have the larger number of Registrars going through the exams, which can lead to costs for elements such as a venue, to be spread across more candidate fees.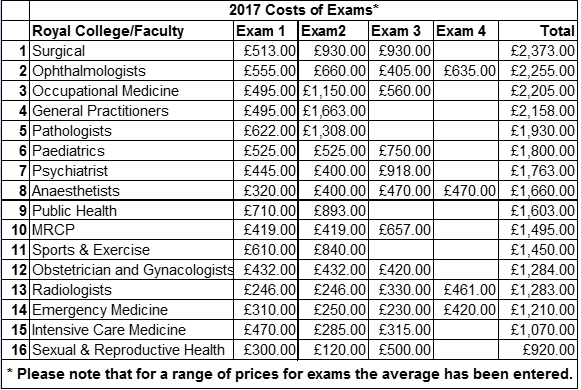 Why do the Faculty hold their exams in London? Outside of London could reduce the costs
With the impact of COVID-19 the Faculty is currently looking into a number of options regarding how exams can be delivered in the future in a safe and practical manner. We are in discussions with the GMC and the Academy of Medical Royal Colleges to identify a consistent approach to exam delivery. For more information on the exams and COVID-19 please visit this page.
More people outside the training programme are applying for the exam and thus it's harder for those on the training scheme to get a place
The number of people applying for the exams outside of the training scheme hasn't increased and those that are taking the exam are in the minority.
Diplomate Exam
Why aren't there more resources available to prepare for Paper IIA?
The Faculty has released past paper 2a questions as a resource for candidates. These can be accessed here.
Why can't I bank one paper and sit the second paper at a different sitting?
This has been discussed in detail by the Diplomate Development Committee. The Committee considers that this is one exam and believes that a candidate should be ready to take both papers when they sit the exam for the first time. Indeed, in the past, banking was not permitted, so a fail in either paper, meant re-sitting both papers. Whilst the Committee is generally happy with continuing the banking process, committee members do not consider it appropriate to break the exam up in to its two constituent parts and allow either part to be taken separately at the first sit. It should also be noted that from an administration perspective such a change would add complexity and therefore cost which is unlikely to be welcomed by candidates.
Why doesn't the Faculty hold a mock exam to test questions rather than deciding after an examination that a question is not fit for purpose?
There are two issues here: removing a question that is not fit for purpose, and holding a mock examination.
a) Removing a question: we undertake detailed review of all questions after every examination, this includes reviewing candidates' performance and question psychometrics. This approach is standard practice across most undergraduate and postgraduate medical examinations. However, it is important to recognise that it is relatively unusual for that review to indicate that a question should be removed. Our Exam Board would only take that decision in very specific circumstances where the question very clearly did not perform as expected. We would also take care to ensure that such an action did not disadvantage any candidate.
b) Mock exam: whilst this is an interesting and appealing idea, due to limited resources the Faculty is unable to stage mock exams. Examiners are volunteers who give up their time to ensure that standards in training are maintained. Creating a mock exam each year would considerably increase the burden on our examiner team, as not only would they need to write many additional questions, but also find time to mark them.
An alternative approach used in certain exams is to extend the exam length, including one or more extra questions that would be being 'tested' (without indicating which those were). An example of that approach is in the national Situational Judgement Test run by UK Foundation Programme Office. Such an approach is best designed for large MCQ type exams and would not fit with the structure of the Diplomate Exam, where additional (test) questions would inevitably be highly visible (as for instance you would have a third question in the Research methods section of paper 1A, but two questions in all other sections).
It should also be noted that most questions used in our exam are new questions, rather than questions drawn from our 'bank', as that bank is relatively small. This in fact has many advantages, including ensuring our questions remain relevant and up-to-date. All new questions go through many stages of detailed scrutiny before their appearance in an exam. This includes development and review by a section team, then review and selection by the full examiner committee. At that point, edits are often requested and final questions are then submitted to the exam chair and deputy for insertion in to a paper and further editing. The complete exam paper is then reviewed at a standard setting meeting of examiners, before the final paper has two further reviews by the Academic Registrar (UK FPH) and the Hong Kong Censor.
Final membership Exam
Why does the Faculty accept payment for exam places and not let candidates know when they are sitting?
Since introduction of the new Final Membership application process in late 2018 this is no longer the process. Once a candidate pays for their place the sitting is confirmed by email within 10 working days.
Why is there is a long wait for Final Membership exam places?
In 2018 due to an increase in candidates passing the Diplomate membership exam, there was an increase in demand for places on the Final membership exam. The Faculty has subsequently held a 5th sitting of the exam in 2019 and will do so again 2020, to meet this increased demand. Subsequent work will be done to track demand for exams and make adjustments in provision as necessary. As of the publishing of this document candidates are waiting 6-8 months to take their exam once a place is confirmed.
Evaluation of the Final membership exam needs to be improved.
Following each exam candidates are asked to provide feedback on the exam including the logistics on the day, the questions set etc. This is now being reviewed by the Final Membership Examination Development Committee. This will include input from the SpR member on the Committee.

ePortfolio
When I revisit previously signed off LO and have them signed off for a new ARCP they remain attached to the historical ARCP
Currently the Faculty is engaged with the IT provider to resolve this issue.
ePortfolio needs to be integrated into the ARCP
The Faculty will be contacting deaneries to investigate and offer support/training where possible.
ARCPs not closed and items becoming attached to historical ARCPs. This means that items need to be re-assigned by Faculty staff to correct ARCP
Currently the Faculty is engaged with the IT provider to resolve this issue.
Notifications for supervisors when items are waiting to be signed off would be helpful
This was specifically not requested as a function when the system was developed, as supervisors did not want to receive notifications for multiple items in their inboxes.
The Faculty will be looking into this option in consultation with supervisors on the system.
Top