Public Mental Health Special Interest Group
Public mental health is the art and science of improving mental health and wellbeing and preventing mental illness through the organised efforts and informed choices of society, organisations, public and private, communities and individuals.
 
Mental health is vital to public health; mental wellbeing is profoundly important to quality of life and the capacity to cope with life's ups and downs. It is protective against physical illness, social inequalities and unhealthy lifestyles. There are now a large number of evidence-based approaches to promoting mental wellbeing and preventing mental illness, and these are growing daily.
Our aim in the Public Mental Health SIG is to promote high quality, evidence based practice in public mental health by enhancing knowledge, skills and attitudes, as well as providing practical resources to assist you in your work.
The Public Mental Health Special Interest Group is chaired by Liam Hughes: liamhughes2900@hotmail.co.uk and reports to the Faculty's Advocacy & Policy Committee.
Further Resources
The Public Mental Health Special Interest Group has developed website pages and links to further resources on the key topics in public mental health (see links below). The latest public health and mental health strategies say that mental health and physical health should be treated with 'parity of esteem'. To achieve this parity we need to enhance knowledge and skills relating to the mental health components of public health practice. The SIG has also developed a publication with FPH and the Mental Health Foundation for public health professionals to support the promotion of mental wellbeing and primary prevention of mental illness: Better mental health for all. This publication is designed for FPH members and is available to all.
In April 2021, the Public Mental Health SIG responded on behalf of the Faculty to the government's White Paper, Reforming the Mental Health Act and the SIG's response is here.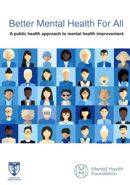 Section one maps out why mental health is an important and often overlooked aspect of overall health.
Section two outlines the risk and protective factors through the life course and across communities.
Section three addresses approaches and interventions to improve mental health at different stages of the life course and in different settings.
Section four offers a practical guide to enable practitioners to support their own mental wellbeing.
Prevention Concordat for Public Health
Public Health England (PHE) has published a major set of resources to help local authorities and their partners take action to promote better mental health and prevent mental ill health in their communities. The aim of the concordat is to adopt a prevention-focused approach for positive mental health through the development of alliances across and between local authorities, the NHS, private, public and voluntary, community and social enterprise organisations, education settings and employers. 

The concordat is available to view here.
Accessing advice and support for people directing affected by mental health issues
If you are experiencing mental distress, or find that the subjects covered by this resource triggering, you can find information about how to access support, care and treatment for either yourself or someone you care for via the following websites:
Looking for ideas and examples of best practice in action?
Watch three short films of public mental health in action, available on FPH's YouTube channel. The videos were made with three of the shortlisted entries for FPH's Public Mental Health Award 2016 and tell the story of work happening in Torbay, Somerset and Lanarkshire to improve public mental health. 
Contact us via policy@fph.org.uk to let us know if these resources on public mental health are meeting your needs or if you have any suggestions for further topics to be included.
Public Mental Health: Joint conference with RCPysch
In May 2019, FPH's Public Mental Health Special Interest Group (SIG) co-hosted a fully-booked conference with RCPsych dedicated to discussing effective public mental health prevention. Click here to read about the talks given on the day, including slide packs and full event write-ups. 
Sarah Stewart Brown Award 2019
This award, sponsored by Professor Sarah Stewart Brown, aims to encourage and promote leadership and innovation in public mental health in the UK among members of the public health community.
The 2019 winner was Trudy Grant from Somerset whose children and young people's programme focuses on opportunity points across the life course, for protecting and promoting lifelong emotional health and wellbeing.
You can read her full application here.

Preparing and planning for emergency responses - psychosocial support
In 2019 the Public Mental Health Special Interest Group developed a briefing to help prepare and plan for emergency responses, ensuring that the impacts of trauma on psychosocial health and well-being are considered. It seeks to complement existing resources in addition to signposting where additional information exists at a national and international level.  The briefing supports public health teams, educational establishments, community, social care and healthcare settings.  The briefing was presented at the PHE annual conference in September 2019 alongside a presentation with the British Red Cross which can be found here.