Public Health Appointments
FPH works to maintain standards in public health by reviewing and approving consultant job level appointments and by providing external assessors for interview panels. This assures employers and the public that individuals are being recruited to the highest standard required to protect the population's health and enables us to contribute to the planning of an efficient, high quality public health workforce.
Recruitment process for all senior public health posts  
There is a standard process for recruitment which must be followed for all public health Consultant and Director of Public Health posts. Some of these dates may vary but the approval of the job description and other documentation and the holding of a properly constituted AAC panel are crucial for the appointment to be valid.
Standard recruitment process for senior public health posts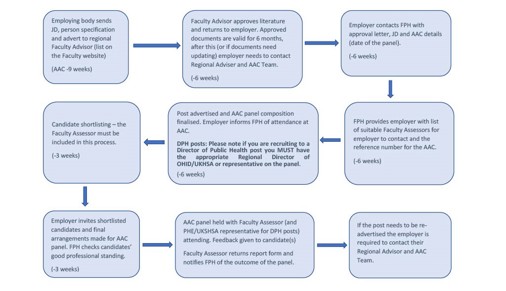 There are some essential criteria that need to be met for candidates to be considered eligible for Consultant or Director of Public Health posts. The Faculty can support Assessors with checks on these criteria prior to the AAC panel. The requirements are that the candidate must be:
In good standing with the Faculty and participating in a CPD scheme; and 
On the appropriate specialist register (GMC, GDC or UKPHR) at the point of application.
Further guidance is available below for employers and Advisers or Assessors working on behalf of the Faculty. The Faculty team can be contacted on aac@fph.org.uk.