Membership categories
FPH has three routes to become a member that vary according to an individual's level of training, experience or contribution to the field of public health. Please see the individual sections below for further information on these standard membership routes and on the benefits and privileges of FPH membership.
Aside from becoming a member through examination, we also offer through Distinction as well.  If you are looking for information about FPH's Distinction grades and all the Awards/Prizes we celebrate each year then please click here. 
Lastly, we offer a Membership and Fellowship by exemption:
Membership by exemption
Membership by exemption will be available for Defined Specialists who submit a portfolio and are subsequently accepted onto the UK Public Health Register (UKPHR) after 1 July 2013.
To apply, please download this form.
Fellowship by exemption
Defined Specialists who register with the UKPHR (or submit a portfolio that is subsequently accepted) prior to 1 July 2013 are eligible for Fellowship by exemption.
To apply, please download this form.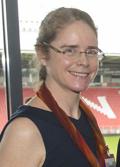 "Being a member of the faculty of public health has enabled me to branch out in my career from dental public health to public health. Contributing to the faculty helps make a difference at a broader level as well as working locally."
Dympna Edwards, Consultant in Dental Public Health & Local Board member for North West 
Top