The Health Economics Special Interest Group is chaired by Professor Rhiannon Tudor Edwards: r.t.edwards@bangor.ac.uk and reports to the Faculty's Health Improvement Committee. 
Purpose of the Health Economics Faculty of Public Health SIG
A place for our members to discuss new policy ideas and share best practice and learnings through our growing network of over 30 Special Interest Groups (SIGs).
For those for whom health economics is new, to introduce the principles of health economics and economic evaluation.
To embrace the application of health economics to public health and the particular challenges to applying economic evaluation to public health interventions.
To make space and time to discuss examples of interesting published papers in the field of public health economics.
To think about how the health economics SIG can support the Faculty in any policy-related activities.
Our starting point
"Preventive medicine, like the rest of medicine, should be as scientific as possible, but we should not expect to find more than a few islands of firm ground, and for the rest we must learn to live with uncertainty and to be satisfied with best judgements. Most decisions on health policy are provisional, and they are subject to review in the light of experience and new ideas" (Rose, 2008, p. 63)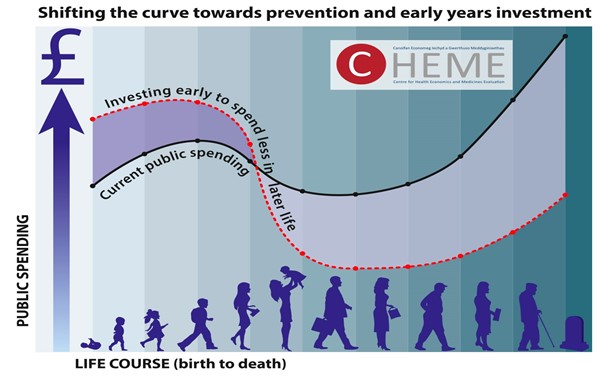 Source: Edwards et al. (2016)
Health economics
Health economics provides a structured way of thinking, a framework for weighing up the costs and benefits of using scarce health care resources to meet our needs
What health and social care should we provide?
How should health and social care services be organised?
How should individuals in society gain access to health and social care services?
Quarterly journal club
A journal club is an educational meeting in which a group of individuals discuss published articles, to keep themselves abreast of new knowledge, promoting in them the awareness of current research findings, teaching them to critique and appraise research, and encourage them to utilize research in evidence-based practice of the speciality.
Some suggested reading
Cookson, R., Griffin, S., Norheim, O. F., & Culyer, A. J. (Eds.). (2020). Distributional cost-effectiveness analysis: quantifying health equity impacts and trade-offs. Oxford University Press.
Gilmore, A. B., et al. (2023). Defining and conceptualising the commercial determinants of health. Lancet 2023; 401: 1194–213
McDaid, D., Sassi, F., & Merkur, S. (2015) Promoting health, preventing disease: the economic case. Open University Press.
Edwards, R. T., & McIntosh, E. (Eds.). (2019). Applied health economics for public health practice and research. Oxford University Press.
Contact details
SIG lead: Professor Rhiannon Tudor Edwards
CHEME, Bangor University
r.t.edwards@bangor.ac.uk
References
Edwards, R. T., Bryning, L., & Lloyd-Williams, H. (2016). Transforming Young Lives across Wales: The Economic Argument for Investing in Early Year. 
Rose, G. A., Khaw, K. T., & Marmot, M. (2008). Rose's strategy of preventive medicine: the complete original text. Oxford University Press.